"I want to die with my blue jeans on" – from <The Philosophy of Andy Warhol> you can see the position of jeans is extremely high. Everyone needs a pair of jeans, no matter you are in low life or in high society.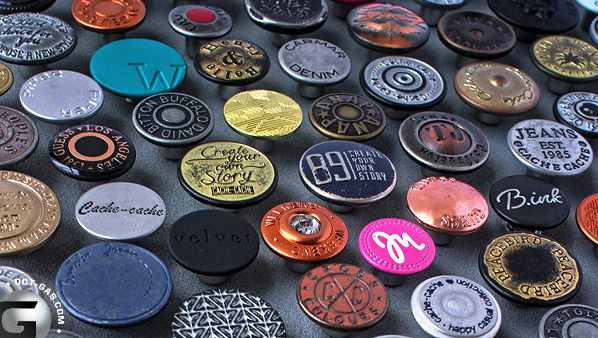 It is said that the first jeans were from Levi's. The founder of Levi's – Levi Strauss was one of them who was crazy for gold-rush in the middle of 19th century. However, he didn't follow the crowd to make the first bucket of gold from gold digging in San Francisco but sold them durable denim trousers instead. The jeans became the token of overall at that time. The first jean Levi's 501 came out, implying that denim realm began, which has 500 years of history. However, the jeans button made undeniable contributions for the great sensation of Jeans in the world. We can even consider that first denim cloth wasn't the mark of jeans, the denim with the metal button made the first jeans.
When we mention jeans buttons, it relates to tack button, rivet, fly-button. Generally speaking, jeans buttons are more talking about the tack buttons, Whereas, the smaller size of tack buttons are actually the fly-buttons. Many people may not realise it, but button-fly jeans have been around for far longer than jeans that zip up. Button-fly jeans are still incredibly popular in spite of zippers are easier to use, quicker and less visible. I've sum up some reasons for it. One of the benefits of button-fly jeans may be durability. The five buttons that are traditionally used on these types of jeans are generally less likely to break or come apart than zippers might. People who wear jeans that button up also do not usually have to worry as much about their fly opening unexpectedly, which is a problem with zip jeans that many people find embarrassing. There's the question of sex appeal. Zip flies only have one layer of fabric over them while fly-buttons require two—just enough volume to draw some seemingly unsolicited attention to your mid section. That said, two layers of fabric can also appear dishevelled and warp into funny, immutable bumps if not handled correctly. But at least with the fly-buttons, any attention paid to your crotch won't involve someone politely reminding you to XYZ.
To take the comprehensive approach to the development of Jeans, the constantly prevalent styles are not many. How can your jeans stand in the spotlight among thousands of brands in today's markets, besides the good quality of denim and wash-out jeans, the details decide merits and demerits of jeans? It includes tack buttons, rivets, fly-buttons, leather patches, care labels…etc. Nowadays, the metal buttons on jeans are not only functional but also a decoration and design to your jeans. Take "Tough"- famous brand from H.K. as an example, they are very good at using hardware on jeans to feature their concept on jeans, unique military style. But the usage and requirements of jeans buttons are the trauma for most Jeans companies. Because the material of jeans buttons, the properties of different kinds of materials, the oxidising degree of jeans buttons, the feeling for the appearance of jeans buttons after applying and so on are the profound knowledge for each. In a word, the easiest way to identify the jeans quality and attitude is checking the jeans buttons.