The plastic seal tag, as one of the essential part in garments and accessories, is playing the role of the junction between hang tag and product. The pre-knotted hang tag strings which are made of cotton, hemp or other kinds of the composition are considered seal tags in old days. However, more and more people were dissatisfied with the limitation of this simple "seals", they are not efficient enough. For example, when you apply the hang tag string, you may need a certain time to tie the knot firstly, plus, it's not as easy as the seal tag to seal the hang tag and product together. Secondly, the hang tag strings could not meet more requirements for those who have strong desires to build up their brand. For instance, in order to promote your brand, you need to put your own trademark on the seals. Obviously, the hang tag string could not help. But along with the development of seal technology, people started to use aluminium and printing sheet stamping together. Due to this technology was not yet refined, the hook of seals accidentally destroyed the clothes. Until the plastic injection moulding process came out, many problems could be solved. Nowadays, more and more functional plastic seal tags are created with different designs.
Most of the plastic seal tags are made of PS (Polystyrene Resin) or ABS ( Acrylonitrile Butadiene Styrene plastic), Polyester or nylon for the strings.
In terms of usage, we can divide the seal tags into the permanent lock, non-reusable purpose and reusable lock. Permanent lock means the plastic seal tags can be used at one time. This is good for people to prove that the products are brand new, especially for online business or for those people who need to return the products, avoiding second-hand cases. Reusable lock plastic seal tags are usually for those products in handcraft shops. When the customers buy the decorations or small gifts, they don't want the
In terms of style, they can be divided into universal style, epoxy style, bullet style, custom style.
In a completed set of hand tag, to choose a suitable and favourable seal tag is extremely important. It is not only standing for the brand culture popularisation but also playing a finishing touch on the role of clothing.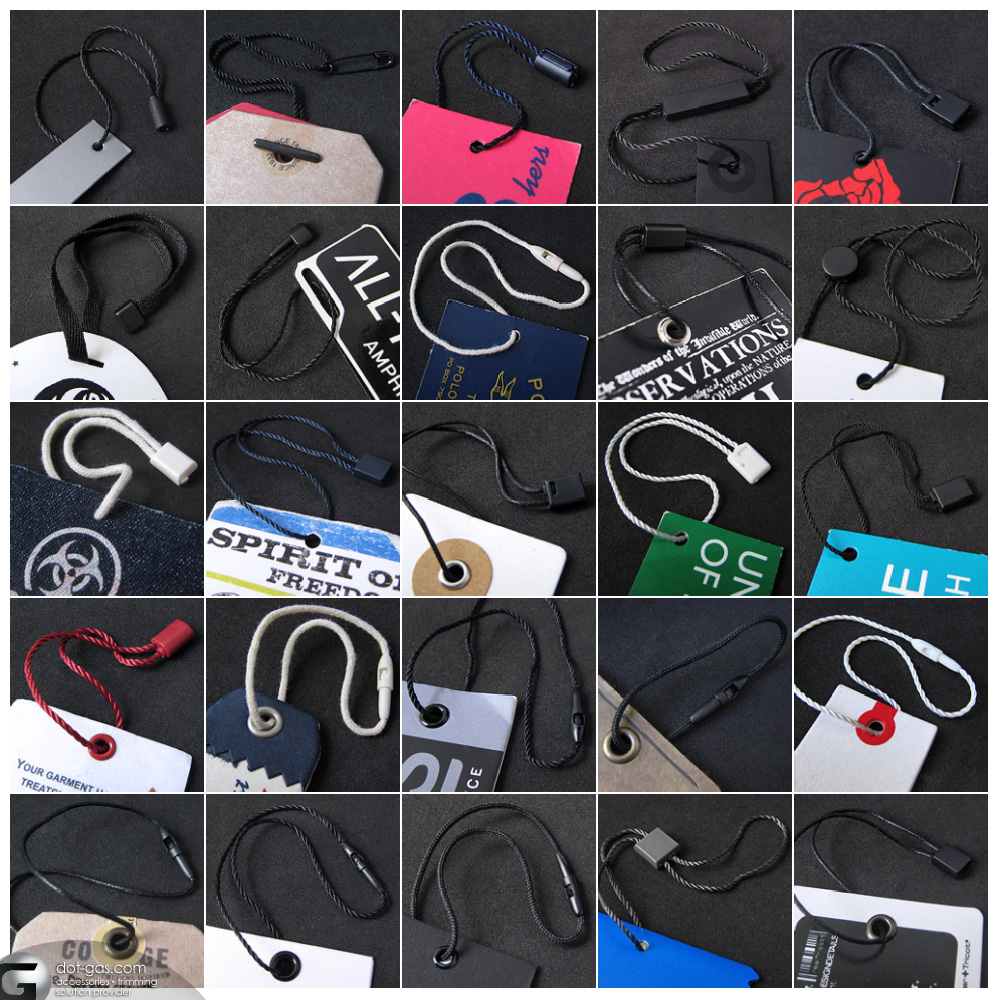 Applying plastic seal tags is absolutely the essential part in today's fast retailing companies as well as fast-growing online shops. They are quite easy to use, efficient and cost-effective, no tying, no safety pins needed. Not just this, for people who have stronger desires to build up their brands, custom-made seal tags are perfect for that.
We divide our seal tag items into 3 kinds – permanent lock, non-reusable purpose and reusable lock. The permanent lock is the best solution for shops have terms or policy to their after-sale services, to prove that the products are not used that is considered good to return or refund. That's also why nowadays e-retailers tend to use permanent seal tags more often to protect their products; But if you're looking for seal tags that can be reusable to products you sell or good for environment, we also have many style options for you to choose; Being fast to attach hang tags or providing a better look is just what you need, we're quite sure you will be surprised to our collection. We have a variety of styles with single side slots or double-sided slot, bullet type and even ones assembled with the most popular waxed cotton strings.
With the unique selling system, we never stop trying our best to supply the best plastic seal tags for all your products. Not only the items we provide are high quality, but also ready to sell. You can always make a purchase without meeting a large minimum order quantity.